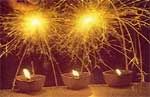 Diwali, a derivative of the original Deepavali, celebrates the triumph light of darkness. It also is a metaphor for wisdom prevailing over evil. For Many Hindus it is also commencement of the New Year. This year, it will be celebrated on November 12th.
Diwali Diyas
(small earthen lamps) are lit in all Hindu households, which symbolize dispelling of darkness. As India has many different languages and cultures, it celebrated differently across the country. Sending gifts, exchanging of gifts, donning new dresses and sending of sweets are some aspects of the celebrations.
Conventionally, the festival is observed over five days beginning with
Dhanteras
or Dhan Trayodashi. It is celebrated to appease Lord Yama, God of Death. The second day is known as
Narak Chaturdashi or Choti Diwali
. It is considered to be the day when Lord Krishna defeated Narakasura, an evil demon king. According to another legend, Lord Vishnu in the avatar (incarnation) of Vaman, a diminutive beggar sent King Bali, who was a threat to gods, into the netherworld. But, before doing so, Lord Vishnu grants Bali a boon which lets him visit Earth once a year. This is the day when Bali is supposed to come back to Earth.
Third day, which falls on the new moon, is devoted to
Goddess Lakshmi
. Houses are illuminated with
Diwali diyas
, candles, and more recently artificial, colorful lighting. The objective is to welcome the Lakshmi, who is the goddess of Wealth.
The fourth day of Diwali falls on the first day Karthik Masa of the Indian calendar. It is known as
Gudi-Padwa or Varshapratipada
. Newly wed females are invited over to their parents place along with their husbands. On this day, businessmen open their account books afresh.
Bhai–dhooj
falls on the fifth and final day of the festival. The celebration on this day is akin to that of Rakhi, in that it celebrates brother-sister bonding. Yama was supposedly elated over the reception he got from his sister Yami. She greeted him by applying a tilak on his forehead, and thereafter she treated him to a hearty meal.
But, one of the major reasons Diwali is celebrated is to welcome Lord Rama's (incarnation of lord Vishnu) return to his home Ayodhya after he defeated Ravana. He was accompanied in this battle by his trusted lieutenant, Hanuman, the lord of apes.